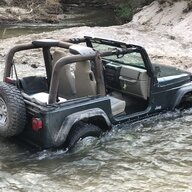 Joined

Dec 15, 2019
Messages

49
Location
From what I have read on the forum here, the 2.5" lift can cause vibes and varies from TJ to TJ. The problem I am currently having is a shudder/vibration that lasts only a second from a hard acceleration. Smooth acceleration appears to be fine. That being said, I am 90% sure that my issue will be resolved with a SYE and CV/DC Driveshaft install. My theory is that since the angle difference is so small that when accelerating hard, the resulting torque twists the rear axle slightly, causing the momentary shudder. For reference, I have:
—
OME 2" HD lift kit
(Which I have read on here is actually 2.5")
— 1.25 Savvy Body lift
— 1" JKS Aluminum Motor Mounts
— 33" BFG K02s
— 5.13 Gearing
I would rather spend the money on a SYE install than do a Tcase drop, but what do you guys think? Would not doing this cause any damage long term?