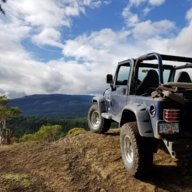 Joined

Mar 4, 2018
Messages

10
Location
Hey guys. I've just installed the JW Speaker 8700 Evolution J2 headlights in my TJ. After reading the great sticky post by Chris I ordered the headlights. They didn't fit the connectors as the headlights were for a JK so I ordered this little connector to switch it from the TJ to JK wiring.
https://www.amazon.ca/gp/product/B07TTGF934/?tag=tjforum-20
So! After installing them and the lights working. They are stuck on high beam and everyone that I passed on my little test drive was rather mad at me.
I've checked that the ground, low beam and high beam wires that are from the harness are correctly making it to the headlights already too.
Any advise?