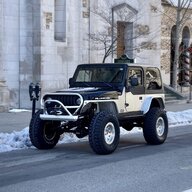 '03 Tj and '06 LJR
Supporting Member
Joined

Feb 8, 2019
Messages

36
Location
Looks are very subjective. I stuck a set on my TJ-6 to see how they looked, took them right back off. No one needs that much gap over their tires.
True, I'm also on 37's. I'm mostly going to swap to them for the extra space between the Tire and "Firewall" side of the fender.
I have the tub armor on and the step down from the body line on the hood to the fender just doesn't look great to me.