TJ Enthusiast
Supporting Member
Joined

Dec 10, 2015
Messages

547
Location
The video just illustrates that it's 4WD system is quite capable - more capable than about any other three row seat vehicle for the price.
They ARE super nice! Another engineer here in the office has one.....well..his lawyer WIFE does LOL
We needed a 3rd row as well...commander was just too dang expensive (I'm a CHEAP bastard!) even for used ones at the time (2007) so I went with the exploder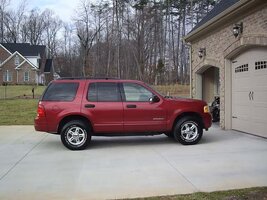 3rd row seating
4.6 V8
rear air
8.8 rear with LSD
full time AWD + 4wd hi&low
And it was $17k with 24k miles back in 2007. Now it's rockin 185k. Been my daily driver for 8 yrs. I got her all caddy-wompused a few times like that ramp and had to lock the center diff to go forward, but if you work the brakes correctly and engage the LSD she'll trudge forward with just 2 wheels on the ground as well
But I have CLOTH seats...and am a hot natured bastard (in addition to being a cheap one) so no heated seats. My kids are college/HS so they're faces are buried in their i-Phones....no need for the TV (we DID have one in the Durango though for when they were wee tikes)
Not as plush...but since I have to do so many construction site visits during the course of a buildings progress....I don't really WANT plush in a daily driver. It'd really chap my ass to have to drive 1/4 mile in red clay soup to a building, get out having to wear hip waders, and get back in after slopping around to a luxury interior, just to muck it up...so it works very well for me. Now my TRUCK on the other hand
She's nice..but I don't drive it to job sites.