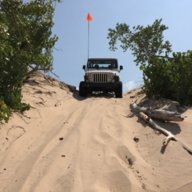 Joined

Dec 6, 2018
Messages

116
Location
I am having an issue where my rear passenger floor pan is getting hot enough to melt the floor mat and the rear drain plugs. I found this because I was removing the mats and cleaning the interior to install Bedrug. I dont have carpet now and there is no heat shield on the muffler so I assume this is the problem. I cannot find a stock heat shield anywhere thats not rusted out (I live in Michigan) but I am sure I can find a universal heat shield to put on. I am wondering if the bedrug is going to melt as well not sure if anyone has any insight but I know it doesnt have any heat shielding in this area.

In researching soultions on the forum I see Noico is highly recommended but I am concerned about this melting or having issues as well. Would this stand up to the heat or should I do some sort of heat shield, Noico, and then bed rug?

This is an off road jeep mainly and the floor pans do have some rust issues, I have replaced the bad spots but I assume Noico should not be applied on rust. I was already planning applying POR-15 prior to the bedrug but I dont know how that will stand up to that much heat either.

Any suggestions are helpful.