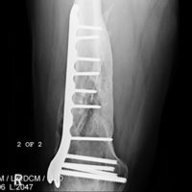 Over Analyzer Extraordinaire...............
Staff Member
Supporting Member
Joined

Dec 12, 2015
Messages

20,194
Location
Howdy,
Some might remember last year I was involved in a study thru the VA where I got to try out 3 different types of feet in a study the VA was doing in trying to help decide what foot to give to an amputee. So I had an appointment in January to show them my new socket and foot that I had gotten made for when I am wearing a taller heeled boot like my motorcycle boots or my snowpacks during the winter.
While I was at that appointment I was asked if I would be interested in participating in another study. This one is working on developing a bionic foot that can mimic many different types of feet so that a amputee can test out how different feet feel to them without having to actually go thru wearing all these different feet. As a amputee you no longer have a ankle to flex for you and you don't have the muscles in your lower leg to push off for you as you step. So many prosthetic manufacturers try to make a foot that will store energy as you step down on it and then spring back up as you step forward. This works for some people but not all. Others becasue of the type of activates they do or where they live like me. I live on a gravel road and driveway so walking on uneven ground is hard with some types of feet.
So the idea of being able to help in the development of a foot that can mimic more than one type of foot to help out current and future amputees was a great opportunity. This foot that I am wearing is a IN LAB only thing but the idea is that they would at some point be able to market this so that regional centers would have the ability to use this foot and then amputees could then come in and walk in the center and they would be able to change the settings with a click on a keyboard or tablet.
Right now this current foot only emulates 3 different feet and it is connected to the computer thru cables so that it can gather all the different sensor inputs. So far I have only walked on the treadmill while testing out the 3 different modes. I'm not sure what I'm doing on my next appointment but at some point I'll be walking up and down a incline plus walking up & down stairs. Then once the lab work is down I will get to test out the 3 actual feet this bionic foot is emulating.