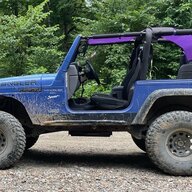 Can't type
Lifetime Supporting Member
Joined

Oct 18, 2020
Messages

2,557
Location
My daughter is getting ready to drive & has been saving her pennies for a car, but we're a TJ household so I've been on the lookout for a cheap TJ with an auto, and particularly one with a reported transmission issue because that gives me maximum bargaining power.
Found one a couple weeks ago, a 97 that hadn't run since May and had a bad transmission leak. When I found it, it was marked down to $6k from $8500, so I figured it was primed for our budget. Went and looked at it last week….
first off, no rust underneath, or anywhere for that matter. Green paint has a nice gold patina (by which I mean clear coat is gone on the hood & fenders), but the interior is great. We have some basic cleanup ahead of us, but no issues to speak of. Seats are great despite having seat covers (I feared the worst!). 33" tires have TONS of life left. Cracked windshield, but that's solvable. Basically nothing wrong that I can see.
Dead battery as expected, but it immediately fired up from a jump start, and honestly purred like a kitten. Oil looked great. Trans dipstick was pretty well dry, and wouldn't go into gear at all. I could see evidence of a drip from the bellhousing but nothing on the driveway or skid that would indicate a huge leak. Heat & AC work but can't make it blow on the upper vents (resisted the urge to say "blow on my face). So basically we need a battery, some ATF, probably a pump seal, and then we'll see what else comes up.
I kept the conversation going with the seller who had said she turned down a $4k offer (which was what I was wanting to pay). Sat on it for maybe 10 days, and offered $4500. She took a couple of days, but accepted. On FB marketplace the only automatics we're all listed at over $8k, and anything listed in the 6 range was kinda trashed, so this looked like a good value in this market.
Wife drove us out there today with a gallon of ATF, cables, and a mess of tools. The plan was to jump it, dump the fluid into the trans, and make it drive the hour back home before it lost enough fluid to cause an issue. And hopefully not die because I forgot to steal the battery out of the 02.
I fully expected this thing to spew transmission fluid once I put it into neutral, but it didn't. I figured the pump was shot…but nope! Went right into gear and was driving under its own power for just $30.
So my daughter completed the transaction…clean title, they've had it since 2004, the title shows 60k miles.
. Drive the hour home and checked the fluid. Was just above max when I filled it up, and there was no discernible loss after that drive. I'll call that a win for now. Got a new battery & it fired right back up. Looks like we can focus on the little stuff with most of the big stuff no longer a pressing issue. The seal still needs to be done, but the jeep is 100% mobile for the time being so I can get it in a few weeks when I have a little more time.
And the most important one of all: