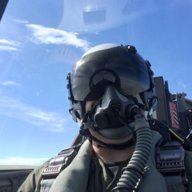 Joined

Feb 13, 2019
Messages

61
Location
I recently did a lot of work on my jeep. Swapped front and rear axles, D44/F8.8,(w/detroit), 2.5" spring lift, 35s, D20 T-case, drivelines, etc. What I found is that when I go over a larger bump on a paved road, the jeep ends up going left pretty hard. At about 45 mph I was able to correct back, but I was mostly into the other lane by the time I got the veer stopped and it took a while to correct back.

My front setup is a D44 from a waggy with a high steer arm on a set of chevy knuckles. The tie rod is flipped. Ball joints, drag link/tie rod ends, sway bar link bushings are all new. Front axle was setup with 7 deg of camber at ride height, Tires are toed in about 1/8-3/16" on flat ground. Tire pressure is about 26-28psi in all tires. Stock control arms because I didn't need to use adjustable arms to rotate the axle. Any ideas about what would cause it to veer left going over a bump like that?

Should note that there is no death wobble and steering feels about like stock otherwise.
Last edited: