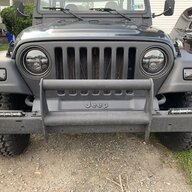 Joined

Jan 26, 2021
Messages

1
Location
Hey folks! I did it! I swapped out the heater core on my 97 TJ 2.5! Put everything back together and now my gauges don't work, blinkers blink along with the high beam light on the instrument cluster, That's when the lights are turned off. The headlights running lights and turn signals all work when I turn them on. and the fan blows intermittently but only on high.
I didn't remove the entire dash, I just lowered the steering column and let the dash lay there. Didn't disconnect anything on the driver side as far as wiring goes.
It got cold out and I need a beer so I gave up for now. Bad connection somewhere? Ground? Any ideas are much appreciated.