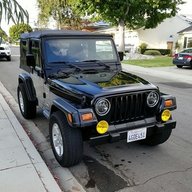 TJ Enthusiast
Supporting Member
Before you read this LONG thread. Let me share a few things to make it easier up front. The long and short of this story about putting a new soft top on your Jeep is this:
1)
Always check to see what frame you have. (
https://www.etrailer.com/faq-jeep-soft-top-hardware.aspx
Is a great resource. It has pics of all three major frames for our TJ's.)
Prior to attempting a new soft top install. Make sure you have the right frame for your soft top.
I had a Bestop Supertop frame. And needed an OEM factory style frame for the soft top I chose - a Rampage Replace a top. But didn't know it at the time. So a week of posting and answers back and forth ensued. Until we figured out my frame was wrong for my top.
Those are the two main types of frames - Bestop Supertop and the OEM factory style top. (I say "OEM" and "factory style" as you might find an actual OEM frame or a Bestop made factory style aftermarket frame. I believe Bestop made both. You can still buy the OEM factory style frame new from Bestop or any one of it's resellers for around $600. USed on CL for around $200.) Make sure your top was made for the one you've got. Mine wasn't. I needed the OEM frame.
And was amazingly hooked up by mrblaine with a new oem frame.
Prior to that I struggled big time for a week. Thinking it was the cold. When in reality I was trying to put a soft top on the wrong frame type.
Here's a helpful primer on frames:
A)
This is the OEM factory style frame. See how much bigger the windshield header is? The part that goes on top of your windshield? It has quick clamps that are alot easier to put in place. And tops made for this style frame have alot more fabric up front where that attaches. This header will attach to your soft top with screws. But is alot easier to get your soft top off and on. If you have a choice go with this frame:
B)
This is the Bestop Supertop frame. It has a slimmer windshield header made of metal and plastic that bolts down to stay tight. Doesn't require as much fabric up front. But takes a wrench and some finagling to get it to mount right. Isn't as easy to take your soft top off and on:
C)
And yet a third one. The Sunrider frame. Which also requires a specific type of soft top:
2)
Don't try to put your soft top on on a cold day.
Wait for some sunshine. Or heat your garage up to 70-80f. Try not to use too much heat gun. If it doesn't go on it can actually shrink the fabric. It did this a tiny bit when I was trying to get my upper door skins on. And I could see it shrinking the rubber rain gasket around the outside. Be careful with heat guns. I've seen them used on YT. But those skins appeared to be going on during a warm day. And did not seem as tight as mine. Which leads me to this...
Secondly, soak your upper door skins (if you have them) in the hottest water you can find.
And then try to put them on your metal window frames. It will save you alot of aggravation. And possibly tearing something.
*Start with the pointed corner first at the bottom front of the window, then the larger square corner at the bottom rear of the window, then the next sharpest corner towards the upper rear of the window, and lastly the longer rounded corner on the top front of the window.
On the last long rounded corner at the top front of the window - your going to need a blunt and smooth prying tool. I used the handle of a medium to large sized crescent wrench. It went on fairly smoothly. And that was after trying five or six times with other techniques. Use the hot water. And work quick before it cools off. Once it dries in place you'll have a perfect fit. These were made to go on tight so the wind won't make them flap. And buddy they are tight. Especially in the winter.
3)
If you don't have the correct frame. Also make sure you have the correct frame bow brackets that mount to your Jeep for your frame to hold onto. They are very different. In fact both frames are very different. And the OEM frame appears to be alot easier to use (taking your top down and putting it back up) than the Bestop Supertop frame. Just my humble opinion. Others have chimed in with a similar opinion.
Soft top bow brackets look like this:
And are attached to the roll bar (on an oem factory style frame) just below the front seat belt mounts. (The Bestop Supertop frame connects to the top of the rear body panels. As seen in the pic above of the Bestop Supertop frame.) There are two small slits built into your roll bar covers at that point. Allowing the bow bracket to stick out of the padding once mounted to the frame. You have to remove the roll bar padding and the seat belt attachment to mount the bow brackets on an oem frame. Taking the seat belt mounts off is 3 screws and plastic cover piece. It's easy. Then you cover the bracket with the roll bar padding and cover. And then reattach the seatbelt mounts:
4)
You'll also see door surrounds just to the front of that red circle above (And on the picture of the OEM factory style frame above). My frame (I assume it was a Bestop Supertop frame) did not come with window surrounds either. They make up the gap between the soft top and the upper doors. (On a Supertop there is no gap. The soft top extends below and behind the door uppers. Whether you have half doors or full.) So I had to track down a set of window surrounds as well. I paid $150 for a new set. That was the same price used at my local junkyard. Although surrounds often come with a full frame. But shop around. Used oem soft top frames can be found for a couple hundred used on CL or Offerup.
5)
I've yet to disprove this soft top installation strategy. And most use this strategy for getting their tops on.
*Start with the header. Attach the front of your top to the header. (The oem goes on with screws. The Supertop simply goes into the header slot or wrapped around the header.) Then spread the soft top out along the top of your frame. Attach the two corners to the left and right of the rear window. Then put the rear windows in. Followed by the side windows. Or visa versa on the windows. Do what's easiest on your top. Then your half door uppers if you have them.
If your about to put a new soft top on and you haven't before. This was the best quick installation video I found. This is if your using an OEM factory style frame. If you have any other type of frame - find a different video that features your frame:
During my many attempts at trying to get this top on the wrong frame. (Or for any tight installation - correct or otherwise.) I found chapstick to be my friend. Apply it directly to the zippers - especially at the corners and tight places - it will provide enough lube to keep zipping all the way around the windows. And will not hurt or stain anything. I mean I used plain old almost white chapstick. I'm sure if you tried something with a dye in it it would stain possibly. I'm sure there is a zipper lube made specifically for this. But really anything that doesn't stain will work.
I hope this helps someone after me. I spent the better part of a week or more on this soft top installation. As you'll see in this long thread. But with the help of several members was able to figure out what my problem was. A BIG thank you to everyone that contributed here.
Thanks for reading. And again, I hope this helps someone in the future. As I did not come across to many soft top installation guides that concerned themselves with all the hardware as well.
*Lastly, I and others make some incorrect assumptions as this thread moves along. In the end it was the wrong frame. Cold certainly didn't help. But it really was about the frame and hardware. I also think there is a copyright issue at hand here too. I don't think Rampage is allowed to sell an OEM frame or header. As those were developed by Bestop originally for the Jeep. So that might be why Rampage told me to use their header first and then an "OEM" frame the second time I called. I'm pretty sure they can't say "use a Bestop frame". But they can say "use an OEM frame". Wish they would have told me about the oem frame the first time I called. But oh well.
In the end I got this Rampage replace a top for $182 on sale. Normally around $350-$400. And it fits perfectly now that I have the right frame. The material appears to be strong. I had one small tear on the inside edge of a upper door window skin. That you you'll see towards the end of the thread. And that was - I'm sure - user installation error on my part. I was tired and yanked a bit to hard on that part of the install. And I'm sure I made that rip happen. So even with the heat on the window skins. Take your time and don't force anything.
Not saying Bestop is isn't worth it. I just didn't have the budget for one. They are by far the best soft top manufacturer there is. They made the original soft top for the Jeep. But they are an expensive investment. That would not have probably helped me in the first place. As I would have had to have purchased a Bestop Supertop to fit the frame I had. And the OEM style is easier to use anyway. So I'm quite happy with the soft top, frame and hardware that I've ended up having to use.
Wish I could say it was all part of a grand plan. But it wasn't. I lucked into the soft top I wanted (khaki diamond) with the easiest to use frame - the OEM factory style. Again, find either as an OEM take off from a Jeep - around $200. As a used aftermarket frame - around $200. Or purchased directly from Bestop for around $600.
*****************************************************************************************
The original post.
Is this stock or aftermarket? I'm about to remove my top and replace it with a Rampage. Just curious what those bolts might mean for putting another top on that's a different manufacturer? I assume it's just to hold the clamp tight. But I've never seen this on any of the tutorials or YT videos I've watched. (This is where my trouble began. I did not realize I had a Bestop Supertop frame. And that I needed an OEM factory style frame.)
Last edited: