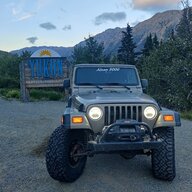 Dashing through the Snow
Supporting Member
Joined

Jul 24, 2020
Messages

41
Location
I figured you did all the research on the towing numbers, especially since you're investing so much into something so nice. I was mainly courious on weather ya went SRW or DRW.

That would kinda suck if ya don't get the truck before the trailer, I'm hoping it all works out for you.

The reason I'm torn between the open and closed deck ( I have lots of time to decide since if I do get one it won't be for a couple years)
1. Weight, but I'll admit I haven't done much research in the difference
2. To me it seems easier to work on a rig in the open area but in bad weather that's it would be totally opposite.
3. I kinda like the idea of also using that open deck to use as a "deck" when out. Grill off of it, setup a small table type thing. And be off the dirt but still be outside.

For what you have planned, being out for extended periods in all weather conditions I'd be more tempted to go the garage rout also, but I'm always second guessing myself, it's a wonder how I get anything at all haha
Second-guessing yourself is the best thing you can do with a purchase like this. I can't recommend second-guessing yourself enough. The kindest thing you can do for yourself would be to second-guess yourself a million times over so that you truly know what you want and what's best for you.
1. Weight is such an important concern not just in taking care of your trailer and tow vehicle but in your safety on the road too. Mr. Tox and I actually made a Google Sheets document where we listed absolutely everything we thought we'd put in the trailer. And I mean every teensy-weensy detail from tinfoil to towels to tools to work equipment to clothes and extra people that might be coming along. We guessed the weight of absolutely everything going in our trailer so we would know what our maximum weight could potentially be and then planned accordingly. The peace of mind from us taking the time to do this is worth every aggravation we'll hopefully never have to deal with on the road because we overloaded our trailer.
2. "To me it seems easier to work on a rig in the open area but in bad weather that's it would be totally opposite." This comes down to personal preference and we took the time to really think about this too. Only you know what's best for you. What is came down to for us was wanting to protect everything from the elements in transit. The last time Mr. Tox brought his LJ in for exhaust work in the dead of winter, the ratchet straps had frozen solid inches-of-ice-deep and it was caked in salt. It wasn't fun to unload. Hot chocolate can only help so much, you know?
3. "I kinda like the idea of also using that open deck to use as a "deck" when out. Grill off of it, setup a small table type thing. And be off the dirt but still be outside." I
love
this idea. Our version of this was to have a massive screen on the back garage door you can pull down so that if it's raining or the bugs are bad, you can be enclosed in the garage and enjoy the outdoors but not be in it. Otherwise, we're just planning on being outside. We'll probably end up getting a fold-down table like you mentioned that can be our outdoor kitchen and we're thinking of a blackstone griddle at the moment. We smoke a lot at home and I kind of like the idea of having smoking being something we do at home and maybe the griddle being our away-from-home thing. Jury's still out on that one but I've heard good things about those blackstone griddles.
Honestly, there's so many options out there and I think besides knowing your weight so you know your limitations, the best thing you can do is know all of the options that are available so you can go from there.
There's so many questions. Open deck or enclosed? Also, are you boondocking or planning on staying at campgrounds? How are you going to have heat? Water? AC? How much of those things do you need?
Have fun second-guessing everything. LOL.
Last edited: