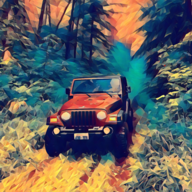 aerodynamic AF
Supporting Member
Joined

Sep 22, 2019
Messages

1,533
Location
Have you looked at NashvilleTJ's thread? He talks about straightening the 14 bolt he built for his LJ.
How bad do you think it's warped? I think trying to burn that bracket on with your 110V welder is part of the issue. I don't know how bent an axle can be before it isn't useable any longer.
me and my 110v welder were absolutely the problem haha. I'm not sure either. It deflects up 1/8th inch (steadily) between the bracket and the spring perch (so over 4 inches?), so I'm assuming it keeps going. I've tried welding on the back side to try pulling it back. then i welded on the back side AND wrapped a chain around it and a jack and put it under load while it cooled. I'm to the point where i've gotten it red hot so many times i dunno what to think about it.
and I'm derailing the thread
p.s. the 220v welder is a dream and i should've just waited till i could get my hands on one. This has definitely been a lesson learned.