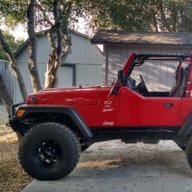 TJ Expert
Supporting Member
Ride of the Month Winner
You probably already know about these guys, but I've had good luck dealing with J&W. It's a Jeep salvage yard in Sacramento. They've even let me wander through the yard to pull my own parts, which seems to be getting rare these days.
http://www.jwjeep.com/
Good yard....I've been there several times. Love walking around their yard looking at all the Jeeps....some good parts there.