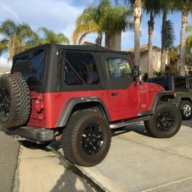 Joined

Jan 24, 2019
Messages

4
Location
Hi all,

I recently purchased a 99 Wrangler and have been having the best time with it. My question is pretty general, please help so i know which direction to go.

My Jeep has a set of 285 70 R17 tires that the previous owner has installed with a 4 in lift, plenty of tread left on it. Being a four cylinder the engine feels very weak and struggles on hills/highway.
My question is will downsizing to say a 235 75 R17 give it a noticeable change in responsiveness? My goal is to put less stress on the engine and transmission as possible so that it will last as long as possible.
Downsizing I would go to a 2 in lift as well.
If it matters the TJ has a manual transmission.

Thanks in advance.