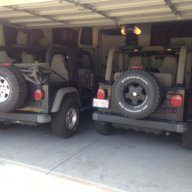 Joined

Dec 9, 2017
Messages

3,996
Location
Well, water is a more efficient coolant then glycol and it will not boil or create vapor pressure in a closed loop system which is all correct, beyond that nowhere did I state to run water vs glycol so don't worry about it. Again it was just a clarification of glycol properties.

Typically I run straight distilled water for several days after any major repairs to the cooling system (temps permitting) to prove system is tight and for the purposes of flushing.
We used mountain stream water in the island when we were kids - no glycol just straight water, for years.