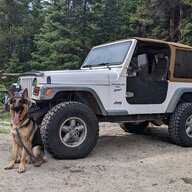 Branch Manager
Supporting Member
Joined

Dec 14, 2020
Messages

2,296
Location
Alright, it is probably time to start a build thread if I'm actually going to deviate from stock, lol. Bought the jeep last August and have replaced most suspension and steering parts with stock replacements by now, not really knowing much about "building" a jeep at the time. Honestly, I'm glad it worked out that way, after a year of wheeling and the experiences at TJ Fest, now I actually have a vague idea what I'm doing and in what order I think is most important.
Starting from a pretty clean (if heavily used) slate. Stock photo from the dealer when I got it at 194k, 4.0, 5spd:
This thread will probably include a lot of learning-as-you-go and amateurish mistakes, but whatever. All in good fun. Never been into wheeling before the jeep, and never really owned an SUV except for the crappy pathfinder I had for 6ish months before the jeep. So lots to learn.
I'll try to keep a current build list so I can look cool on the front page.
Current build (all done by me):
Aussie locker in the front
Warn M8000
Stubbified Stock bumper
2" BDS suspension lift
Rear Core4x4 t2 LCAs
Front, Rear, Core4x4 UCAs
HP Dana 30
JB Conversions SSSYE
Tom Woods DC rear driveshaft
YJ front extended brake lines
Savvy GTS
Savvy Cable Shifter
Savvy MML
Hooke Roade steering linkage riser
UCF 3/8" aluminum ultra-clearance Tcase skid (aka tummy tuck)
UCF 3/8" aluminum engine skid
Currie rear track bar with angled relocation bracket
New radio aw yeah
BDS Front LCA miniskids
Future plans:
Working on dialing in the TT and finalizing all the resulting work from that. My plan is to lay low on mods this season and give myself a chance to enjoy it and find shortcomings since I did a fairly significant amount of work over the winter.
I have a feeling sliders/armour is likely going to be my next step. I'll need new fenders or a 4" lift to go up to a bigger tire size
Last edited: