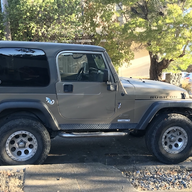 TJ Enthusiast
Supporting Member
Joined

Nov 7, 2020
Messages

193
Location
Okay, first of all, I know that the cabin interior is never going to sound like a Lexus. That said, I'm trying to make improvements where I can. Problem is, because I've never driven a stock TJ (or any other Jeep), I don't know what can reasonably be solved and what is simply expected behavior. I've done some sound-deadening to the bed/firewall which has helped tremendously and now I want to go to the next areas on my list. Would appreciate some insights based on the following groupings of what I think are the common sources:
Hard-top: point of contact with bed and windshield.

Description: seems like I'm hearing solid contact when hitting bumps

is there a stock gasket/seal that should be replaced at a given age? How much of an improve can I expect, if at all?

Hard-top: general flex/rattle

Description: seems as though the top creaks and rattles as it flexes as the body takes bump impact

Is this expected or an indication of a faulty top?

Hard-top: rear window glass (at hatch)

Description: lots of rear window rattle/knocking

I've replaced the seal where the window comes into contact with the tail gate, but what about the the vertical seals at point of contact with the hard top?

General Wind-Noise (whistle)

Description: annoying AF whistle in the front passenger side. I haven't been able to pinpoint the source. Could be the door seal, could be where windshield meets the top, or could be where windshield meets the body.

Will seal replacements in any of these areas help or is this an expected TJ noise?