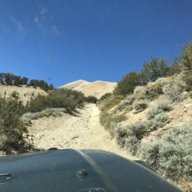 TJ Enthusiast
Supporting Member
Joined

Jan 5, 2019
Messages

321
Location
Did a little math because people like

@Jerry Bransford

often like to say grill inserts are some sort of issue.

For the not faint at heart here it is. If the fan is flowing 2200cfm through the stock grill that requires about 0.2 psi of pressure drop. If you reduce the grill openings from 2" to 1.5" with the same fan speed you will reduce that flow to 1500 cfm. As the temperature increases the fan now spins faster. To increase the flow back to 2200cfm requires 0.5 psi drop total which takes about 50W or 0.07HP extra. This is the extra work required from your 190HP engine to make up for closing your grill up 1/2".

1/10 HP

Feel free to crunch the numbers yourself, please don't take my word for it. All I am suggesting is that some peoples opinion on the subject are a bit questionable regardless on who they are. My real world experience also happens to agree with the math. I personally wouldn't blame cooling system problems on the grill (even an angry grill).
Check out the comments regarding angry bird grills on Amazon. Nearly every one is about overheating. So arithmetic aside, grill inserts apparently really do cause problems.