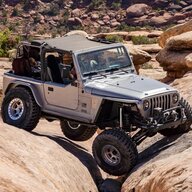 Winter is coming.
Supporting Member
Ride of the Month Winner
Joined

Mar 23, 2018
Messages

8,198
Location
I was in a pretty serious accident about a month ago that left my hand and wrist unusable for the next year or so. With all the recovery and surgeries the jeep has been sort of put on hold now that I haven't really been able to work on it, go to work, and I still want to graduate college in June. However I did have some buddies lend me a hand and I got my new corners and sliders mocked up.

Before:

View attachment 421239

before trimming rear arch.

View attachment 421240

After trimming

View attachment 421241

I'm still torn on whether or not to do a rear fender flair. Let me know what you guys think.

View attachment 421243

This will all be done in black when it's done.

Last little update was that I also snagged some air bumps for the rear for a super good deal

View attachment 421242
Flairs are nice if you do anything were it's wet. Plus it'll match the front.
Sorry to.hear about the accident. Hope you heal quickly.