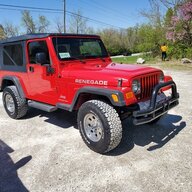 Joined

May 30, 2021
Messages

25
Location
I have a 2005 LJ. In the end (of this build), it will have E-lockers front and rear with 4.56 gears. Tires will be 33s. I plan on off-roading it frequently. Mostly varied/steep terrain trying to avoid large rocks. I want to get to the trails and watch others break their stuff. I want to do the Rubicon Trail taking bypasses on the hard stuff if necessary. I already blew up plenty of drive train components on my CJ-2A. So I know how to drive without trashing the drivetrain.

Dana 30: If I add E-locker, gears, and upgraded chromoly axles, I am about $2200 (parts only) in to that axle. This is a plus because it is lighter than the Dana 44. Less un-sprung weight is a good thing when you're 59!

If I go with a new 44, it is $4000 to $5000 and the axle comes ready to bolt on. The Prorock44 looks like it is going to be very heavy (1/2in wall thickness on the tubes). I haven't contacted Currie yet. Have not found a new 44 from Dana that is a direct bolt-on. The G2 is an option, but I have heard it is mostly foreign parts. I am trying not to take USA parts off my Jeep and replace them with foreign parts.

The bolt-on 44 sounds like hitting the easy button. Just bolt it on while I install the lift kit. Change the driveshaft yoke and I'm done. However, the upgraded Dana 30 may be the best option considering weight and I'm only going to 33s.

Yes, the 44 is better, but has anyone been exploding (or getting stranded) Dana 30s on the trails with 33s? Thoughts?