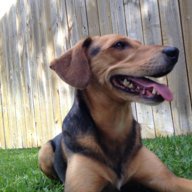 TJ Enthusiast
Supporting Member
Joined

Feb 26, 2017
Messages

219
Location
I recently installed a Savvy gas tank skid and being a lazy ass didn't cycle my suspension afterwards. Driving around last weekend I went over a big bump and heard a terrible thud.
This morning I pulled the springs and jacked up the rear and found the interference. The middle-ish part of the track bar is hitting the front mounting bracket of the skid.
I have a 2" spring lift, 1" bump stop spacers, no BL, Savvy upper rear arms, stock lower, JKS angled bracket and a Core adjustable track bar.
Any ideas? It almost looks like I could maybe bend the front mounting bracket on the skid back a bit and maybe clear the track bar, is that a bad idea? I'd hate to add more bump, it looks like it would take a ton to go that route.
Here is the passenger side with the track bar making contact:
And here is the driver side:
Since my spring perches aren't lining up very well, am I going to have to bite the bullet and get some adjustable lowers?