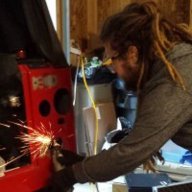 Vroom vroom
Supporting Member
Joined

Mar 29, 2018
Messages

6,792
Location
@Mrs Tox
and I have been figuring out our dream life while I've been recovering the last few months and we'd like to travel more. We absolutely love tent camping and traveling fast and light with the Jeeps, but with our jobs we could travel more if we had more of a base camp that we could work from within range of cell reception. Additionally, we live in the cold white north and tent camping options just aren't available along highways when we travel south during the winter. Tent camping in the Walmart parking lot seems like it'd put us on a website of weirdos...
A truck camper and trailer combo seems to be an ideal setup for our needs and wants.
Any ideas or suggestions?