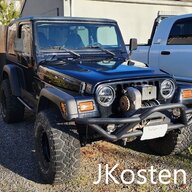 Joined

Dec 30, 2022
Messages

38
Location
Hello all,
I have been looking through the forums to help guide my regearing decision and I want confirm some thoughts. I drive 4 miles to work and 1 mile to my son's school all in town under 35mph, and this is my 4th vehicle, not exactly my daily driver but better for short in town trips vs my diesel truck.
I have a 2002 123k miles Sahara 4.0 NV3550 NP231 Dana 30 / 44 (3.73) 3" coils 33" tires. I do not plan on increasing the tire size unless axle upgrades are made (Swap?)
Currently while driving it seems like the gears are too tall and for my mostly in town driving it just isn't great. I am trying to keep my rpm between 2k and 3k for most driving as to not lug the engine (I cannot which thread I read that in). I end up running 1st gear to 20 mph and 2nd to 35mph. In traffic it is hard to creep in 1st. I can comfortably drive on the highway in 4th gear at 60-65mph. I also do not see a need to do 108mph at 3k rpm in a solid brick.
I am considering going 4.56 to get a more comfortable city driving and I am not sure how much dirt this will see (but I don't want it to not be able to go off highway if needed). Or should I just go to 4.88? I like the idea that with 4.56 I get to 65mph in 4th without an upshift. That would match a lot of highway driving that is 55-65 mph.
Charts for reference
3.73 Gear Ratio
4.56 Gear Ratio
4.88 Gear Ratio
The second part of the problem is: If i am going to regear, what traction aids do I add?
Reading
Locker advice and re-gearing
and
Wavetrac differential for Dana 30
(plus others) I am leaning towards a front Spartan Locker and rear Truetrac. I was originally thinking Torsen LSD front and rear (my Dodge has a factory one in my AAM axle), but the conversations in those other threads offered justification to better front traction if needed in 4wd, without compromise to 2wd (yes the Powertrax No-Slip would be quitter, but I am not worried).
IF I ended up in the snow (Oregon or Tahoe area) would a front Locker be hard to drive / steer on highway in 4h?
I also know that most people end up putting a selectable rear locker in, but not sure I want to send that much (but would I regret that in 4-6 years?) or how annoying would an Powertrax No-Slip be in the rear? (and then I would match to the front).
Current shopping list: (approximately $1600 on Amazon with Prime)
US Standard Gear 4.56 kits for Dana 30 and Dana 44
US Standard Gear Master overhaul kits for Dana 30 and 44
US Standard Gear Dana 30 Spartan Locker
Eaton Detroit Truetrac Dana 44
7 Spicer u-joints (stock ones)
And all the install labor would be myself (I have a full shop available: I am a Master ASE Auto and Diesel tech / Instructor)