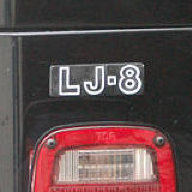 TJ Enthusiast
Supporting Member
Joined

Feb 13, 2020
Messages

774
Location
Price

Various prices for different items
Location

Elmira, NY
If you've followed my threads on various forums over the years you've seen me design and build dozens of fiberglass, metal and fabric projects to enhance my Jeeps. Many of them have become commercial products and many of them were just one-offs for my own use.
I'm running out of storage space so it's time to downsize. In this thread I'll offer lots of things that were parts of my projects and many of them will be free for the taking. I plan to get rid of molds for fiberglass parts, prototypes, preproduction samples and production examples of hardware I've designed, random Jeep body parts that were necessary for the design of custom parts or mold making, grilles and many other things. I also plan to get rid of preproduction samples of products and products sent to me to review that I don't have any need for myself.
MORryde spare tire cargo rack. In the photo I'm testing it with a cooler on Bull Canyon trail in Moab. Free to anyone who can use it.
And cresting a sand hill beneath the Gemini Bridges...
One of the companies I've done many product reviews for is Auxbeam (
https://auxbeam.com
), an LED lighting company. I'm using a number of their products on my Jeeps - high power 25,000 lumen LED headlight bulbs in my JKU (highly recommended), LED replacement driving lights mounted in the JKU bumper (I also recommend these), and some smaller pod lights on my roof rack. But there are a few I really don't have a use for and since I'm cleaning out my storage area, I'll offer these 4 for now:
- Auxbeam QP005972. 7" LED Halo headlights (
https://auxbeam.com/products/spu00208
) lights include a separate DRL and turn signal functions in a "halo" around the perimeter of the housing.
I'll probably be getting rid of the mold for the grille in the photo above, haven't gotten to that in the storage area yet.
- Auxbeam QP000081 LED Halo/Bluetooth headlights (
https://auxbeam.com/products/qp000081
) 7" LED headlights with rotating LED halos and Bluetooth RGB control – the halo ring on these consists of RGB LEDs that can be set to any color, and animation controlled by the smartphone that can add a rotating effect to the halo.
- 12" 5D PRO LED Light Bar (
https://auxbeam.com/collections/led-light-bars-by-series-5d-pro-series/products/zd000677
). 12,000 lumens, it's pretty powerful for a 12" light bar.
- RA80XL 8-gang switch panel. A really nice way to control multiple electrical accessories in your Jeep with minimal wiring.
https://auxbeam.com/products/qp009118
.
All of the above are in their original packaging with whatever wiring, hardware and other accessories they came with. They have all been out of the box and tested for the reviews but are in new condition. Anyone interested in any of the above lights or the switch panel can contact me.
I've got a few more lighting products I may decide to get rid of, stay tuned.
Two CJ tailgates. $30 for the black one, $20 for the brown one.
Blitz jerry can trays. Two are unused, two are slightly used. $20 each.
Two tub cowl sections, one is a TJ and the other is a CJ. Both are in reasonable shape and could be used to repair a damaged or rusty tub or for some other project.
I used both cowl sections to provide reference dimensions and mold masters for parts for my CJ Grille Kit for the TJ, shown here on my LJ compared to the CJ-8 I used to have:
Both are free to anyone who can used them. If nobody wants them, they'll go the the metal recycler.
I'll also be getting rid of some of the other parts/mold masters from the CJ Grille Kit project as soon as I get to them.
Most of the above can be shipped except the tub sections.
More things to come as I continue cleaning out my workshop and storage. I've also got a lot of JK/JKU things to get rid of but I won't post those here unless people want me to.