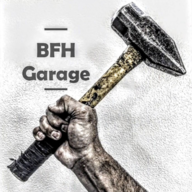 FAFO
Supporting Member
Ride of the Month Winner
Joined

Apr 9, 2020
Messages

2,092
Location
Ok. When setting up gears, don't do anything with pinion preload (adding shims) until after you have established pinion depth.

Take the pre-load shims out and tighten the pinion nut until you start to feel some drag. Don't over tighten it though. That will be all you need to run a pattern.

The preload shims have nothing to do with pinion depth. You need to make all depth adjustments either behind the inner race or between the inner bearing and pinion head.

Try that and see if it defines that pattern up some.