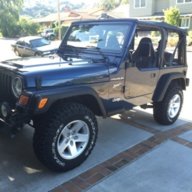 TJ Addict
Supporting Member
Joined

Jun 9, 2016
Messages

1,574
Location
This also brings me to mention a funny conversation I was involved in that could maybe be helpful to someone.

On Facebook, I was talking with a genius who asks questions and then likes to turn down the answers people give him. Every week or so, he posts a picture of this Eaton blower kit for $2699 and asks if anybody has experience with it. Nobody answers, so he usually "bumps" it, and finally someone might answer, usually telling him to just regear the Jeep.

He has a 3-speed auto, 4.0, on 33's. apparently, he's been racing corvettes since he was 10 years old (he's 31 now), so I guess he thinks that makes him the master of all things Jeep, engines included. I, and a few others, have recommended just regearing to 4.10 and calling it a day. If he still thinks the performance is lacking, then do the supercharger. He refuses, the rpm would be "way too high." I always ask the same question, "what about when the tres were stock, were they too high then?" He never answers it, he only claims that 33/4.10 will keep the rpm too high. Today, the conversation ended up with me blocked because I wouldn't shut up about gearing. Fine, it's his Jeep, I really don't care that much.

I do wish I weren't blocked though so I could see him drop 3 grand on a Super charger when he's still ultimately going to want to regear when he realizes a supercharger on 3.07s is the equivalent of lipstick on a pig.

3.07 generates a ton of heat in those transmissions and isn't good for it. I say regear first to put the engine back in its normal operating range, then supercharge it or stroke it or whatever to get it to the power that one's heart desires.
33's and 3.07 gears is a terrible combination. Especially in An auto. My first jeep TJ had 3.07 gears. When I bought my second TJ I made sure that it had 3.73 gears so I could run 245/75/16 or 31s and not worry about it. I tried to read as much as I could before buying the second TJ so I knew what to look for. Research and Education is a powerful thing if you apply it. I highly recommend it.