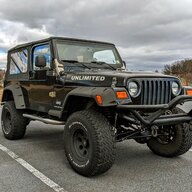 Joined

Jan 30, 2021
Messages

67
Location
Looking for info/experience about building a t-case doubler.
06 LJ with 6spd/231/3.73 on 33s. I'd like to have lower gearing options for better off-road control that won't effect on-road behavior.
as far as I know, my NP231 can't be regeared to 4:1 or anything like that (Teralow 4:1 is no longer a thing, and probably for good reason since they apparently blew up a lot)
swapping t-cases for a NP241 might be an option, but they're expen$$ive and it's not a straight plug in
regearing the diffs is also expensive and/or time consuming, and I don't think going to 4.10 would be enough change to justify it, and going to 4.56 would change highway driving (higher RPM)
Rubicrawlers can only be mated to 42RLEs
So that leaves me with the intriguing option of building a doubler… but also some questions:
most search results for doublers/crawl boxes/etc are from 10 years ago or so, which seemed like a red flag – is there a catastrophic reason not many people go this route? Or just that most people don't have the extra wheelbase to extend the drivetrain and/or are satisfied with regearing or other options?
I've found a few options:

NWF has their BlackBox, which is as complete of a setup as you can buy off the shelf and the most expensive (but still cheaper than buying an Atlas or even most used 241s!) ~$1700
NWF also has their EcoBox, which is several hundred $ cheaper, you just have to supply all of the guts from a donor 231 and have access to a press to install the ring gear. ~$1000
Froehlich Suspension makes an adapter plate, which requires cutting up a donor 231 (removing the front driveshaft yoke) and welding the adapter in place of the back half. $475 + donor 231 + probably paying a shop to do the welding
All doubler options would require fabrication of a mount to help support the longer drivetrain, SYE and new driveshafts (longer front, shorter rear), and finagling double t-case shifters. Also, I would upgrade my NP231 with the 6-pinion planetary gear and wider chain.
So… what else can/should I consider? Has anyone built a doubler with an adapter, or know where such a build is documented?