TJ Enthusiast
Supporting Member
Joined

Jun 25, 2019
Messages

338
Location
just sharing what ive found so far for those out there that are thinking of things to look at that may be the source of their unfound noises, squeaks chirps or rattles.
i know its a jeep and there's gonna be noises but i would like it to be as quiet as i can reasonably get it, basically the source of all of my noises have been coming from the front end around the hood hence all of my tinkering.
feel free to contribute what you may have come across making noises during your ownership.
1. underhood fuse box - found lots of play in up and down movement, hitting just the right bump pattern it would rattle around.
my repair - found some 1/8" thick or so rubber sheet laying around, cut 4 rectangular chunks off and slit the center open and slide over the 4 post the fusebox slides down onto clips into place. no longer makes noise.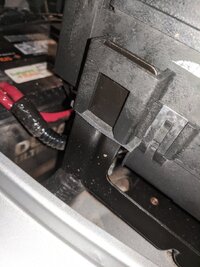 2. hood prop keeper - found slop in fitting of the rod into the catch, rattle noise on washboard roads
my repair - replaced keeper. part number J4007456. prop rod snaps in tight now, no more noise. this eliminated the majority of all noise i was getting within the cab of all my noise repairs.
3. radiator reservoir tank - found slop in mounting tabs, made a thud noise when pulling up on and letting go to drop back down in place, moved up and down about a 1/4 inch.
my repair - rubber sheet material again, removed the tank and cut rubber into a T shape to fit down between the mounting bracket and tank. noise and slop is gone.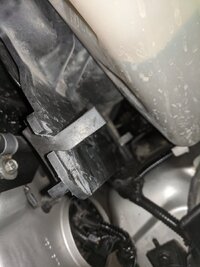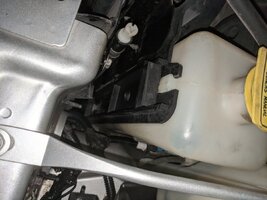 4. wiper solvent tank - slapping the fender with my palm the tank made some noise.
my repair - slipped some packaging foam material between it and the fender it sits on and now the noise is gone.
5. dash squeak - found 2 missing nuts, dash would chirp like a bird but at all hours of the day and night and seemingly randomly come and go but would stop for a bit when pressing onto the dash.
my repair - pulled the long plastic trim on very top of dash, threaded 2 nylock nuts down the studs onto mounts of what im assuming are for the top of the dash just below where the trim covers. sound no longer occurs