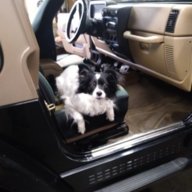 Joined

Jan 4, 2019
Messages

488
Location
I thought you were supposed to have a load on the suspension when you replace a track bar so it's adjusted to be centered at ride height? Asking because I have a new rear JKS track bar waiting to be installed.
Not Invented Here seems to be replacing a stock track bar. He mentions sitting at stock height.
You are correct, there needs to be load on the suspension when adjusting to center. I pulled the tires and put jackstands under the axle at close to normal ride height. Took cross measurements and used a ratchet strap to pull the axle the direction I needed. I was able to tighten the axle mount bolt before hand as the adjustable end is at the frame mount.