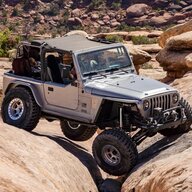 Winter is coming.
Supporting Member
Ride of the Month Winner
Joined

Mar 23, 2018
Messages

8,198
Location
From everything I've been able to tell the axle is straight but I won't know until I get it off and can more actually measure it. It was actually hit high, right at the top of the frame. Once I get my TJ running and have more time to take this TJR apart I'll know more. Regardless I think I'll use that front Dana 44 and just get it repaired if I have to, it will be well worth the investment for what I'm building.
IIRC the cost was around $200 or so for the straitening. Well worth the cost if you could find someone with the tools to do it. They basically put it on a giant lathe and spun it around while bending it with a press. Retube is always an option as well but I didn't want to get into changing the brackets. But, if you're saying you need to change the brackets anyways it may be a good solution for you. If needed of course.
Where are you hiding that Willys tub...