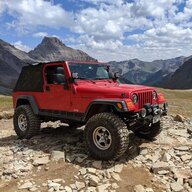 Sacred Order of the Coil Spring
Supporting Member
Joined

Sep 26, 2019
Messages

2,736
Location
Hey Jerry,

This is interesting. Can you say more about when higher RPMs are actually better for your MPG? I'm asking because I've heard it said that the 2.5L isn't actually more efficient than the 4.0, because you have to ride it in higher RPMs in order to keep up with traffic, or when going up hills, etc.
You're looking for brake specific horsepower, which is a measurement of how much power you get per unit of fuel. It peaks at a certain rpm.
Or in other words, 75% throttle at 2000rpm burns more gas than making the same power as you could with 30% throttle at 3000rpm.