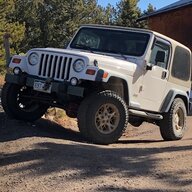 Just a car guy
Supporting Member
Joined

Jan 30, 2021
Messages

498
Location
First, my previous 97 TJ I had installed an automatic with no overdrive into was stolen. The local used TJ that I was made aware of happened to have the required automatic but it was an 04 so it had the .69 overdrive. I compensated for its overdrive with 5.38 gears which did that nicely. That's what boosted its mpg by nearly 3 mpg.
Of course I am just yankin your chain a little Jerry !
But help me understand how a 42RLE with a 69:1 O.D. with 5.38 axles, = 3.71 final ratio,
is so much better, ( 3 m.p.g.) over a 32RH with NO O.D. and 3.73 axles ? = 3.73 final ratio. all other things equal.
It would seem if anything the drive line losses would lose efficiency, (and mileage ).
After all the driveshafts are spinning 44% faster +/- .
It totally sucks that some POS stole your first TJ !