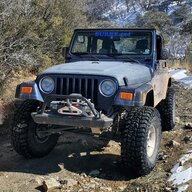 I Loves Me Some Arizona
Supporting Member
Joined

Mar 15, 2020
Messages

6,806
Anyone know a mobile welder who doesn't mind tight spaces? I need my rockjock front axle housing johnny joint kit passenger side welded on my LJ. I'm happy to pay for quality work. I'm in East Mesa just outside Eastmark and my jeep is in an air conditioned shop in my backyard. I could put the old death wobble inducing bushing back on and limp to a shop, but if I could get someone to come to me, that'd be awesome. Lemme know, thx.
Mobile, that's the hard part.
How far are you from Letzroll?
4611 E Virginia St.
Mesa, AZ
480-999-5454