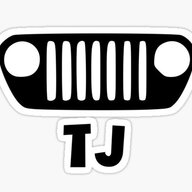 Joined

Mar 17, 2018
Messages

893
Location
I'm about to do this, and am still confused about this (sorry to beat the dead horse!).

I believe that the Moog ES3095R is the replacement passenger side tie rod end if you're re-using your TJ drag link? It's my understanding that the ZJ drag link's damper mount hole is at a different angle and can lead to interference with some aftermarket track bars (though some have no issues with that).

Since the ZJ drag link is the same strength as the TJ one, why not re-use it and just replace both tie rod ends and save the extra cash?
From my post above "edit: Now I don't know where part number 3095r was first mentioned but that's a sock replacement tie rod end. Since we are doing the "ZJ tie rod end conversion" we upgrade the tie rod end with a ZJ one."
The drag link tie rod end is being upgraded to a Zj TRE part number es3096l.
You are re using the stock TJ drag link when doing the Zj tre conversion.