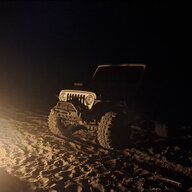 TJ Addict
Supporting Member
Joined

Jan 2, 2020
Messages

2,380
Location
I hate DISCOUNT TIRE. I used to have good experiences with the one in Kerrville, TX. Then I moved. The one here could never balance my tires, so I drive an hour one way to a place that cares and gets it done the first time. I needed a plug, so I tried to fix it first, but broke my stupid HF tire tool. I took it in to Discount because I thought this is easy. They can do this. No need to drive 2 hours to get a plug. They fixed the flat, but I noticed later they took off my super short valve stem and put a gaudy big ass one on there. WTH? Can't they see what they're doing? I'm so done with them. That will be the last time I take my wife's Yukon, kids Rogue, or any of our vehicles to a DISCOUNT TIRE ever. Now I have to break the bead, pull their stupid stem and put in a super short. This is way too much work for a silly tire plug. Then I'm going to drive by DISCOUNT AND THROW IT AT THEIR WINDOW. If that were all I'd only be pissed, but they must have rotated the tire on the wheel because it's out of balance now. Now I have to drive two hours to get that fixed. Two hours and wait at least thirty minutes. WTH? I think I'm just going to sell the Jeep. I'm so tired of this crap. Rant over. Thanks for listening.
I hate being at the mercy of tire jockeys. Several times I've considered buying mount and balance machines from shops that went under.
There really aren't too many tricks.
#1 put less weight than the machine wants.respin. it might just be happy
#2 move smaller weight slightly one direction and the other on rim and see if it magically wants less for next weight.repeat til zero balance with minimal weight
#3move tire on wheel 1/4 turn at a time and do #1&2 again.
Zero balance on even swampers isn't rocket science.hardest part of a lot of shops is having some guy with half your iq lying and making excuses without much you can do