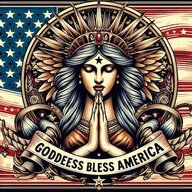 "The Veiled Male"
Supporting Member
Joined

Apr 2, 2020
Messages

4,118
Location
1982 Turbo. I "restored" it. It was a SW car so no rust, but the paint was toast. I repainted with some help from my father in-law, new tires, suspension, fixed everything and made it look and drive like new. My wife HATED this car. I sold it to some hippies during the bio-diesel craze. They hand painted murals over my brand new paint job. Broke even on it though aside from all my time. It has 500k on it when the ODO stopped working. I fixed that too before I sold it.

View attachment 202723
HA! Wife isn't particularly fond of my 300SD either. True story: She had a '91 T-bird when I had the '74 240D (W115). I hated that T-Bird, and she hated my Mercedes! But we needed to have the T-Bird repainted, it was going to be gone for 2 weeks, so she had the choice of driving the MBZ, or the '87 F-250 Diesel. "I'm gonna have EVERYBODY on my ass in that putt-putt" she yelled about the 240D. I told her "Trust me on this one, nobody but NOBODY is gonna be on your ass in that car!".
By the end of the 2 weeks, she got to where she kinda liked the MBZ, she liked how it drove on the freeway - and nope, nobody ever tailgated her!