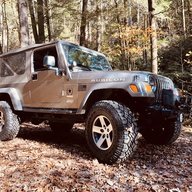 TJ Enthusiast
Ride of the Month Winner
jjvw, I was looking at the spray nozzles in your build thread the other day, thats something I want to do. Ive had those before on a Silverado and I absolutely loved them. . One thing I have really enjoyed since installing is the 90s mustang dead pedal (also copied from jjvw, and others). I use it way more than I ever anticipated.
View attachment 44138
Next would probably be the dome over ride switch. I copied the design from the one on q-tec that costs $30. I had all the parts, including the two-throw switch. Took me maybe 30 min to make. Easier than pulling a fuse behind the glovebox. No one has ever commented on it. I also like to use it when I park in what I think are shady areas, thinking that maybe when they open the door and have no light they'll leave it be, or at least make theft minimal...but I doubt it does that
View attachment 44139
Digging the dead pedal idea. Was there a thread on this somewhere?