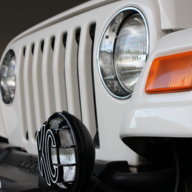 TJ Addict
Supporting Member
Joined

Jun 19, 2017
Messages

2,850
Location
Revolution gears and axles and arb only prob I ever had was driver error


Sent from my iPhone using Tapatalk
Same limitation is there with the 35 behind the tailgate right? I haven't measured, but I believe a 40 will fit between the rear inner tub wells. I would think a 35 would fit without much issue.
Big factor here is no rear passengers.
So lower it. The post was just for fab ideas/different angle of thinking.