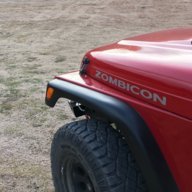 zombicon
Supporting Member
I think this was my 10th time going all of the way through this thread. Out of all the trailers I've seen built this one is my favorite. Seriously great job, maybe someday I'll build one as well!

Please update us on the RTT, that is my next large Jeep purchase (Need to get it before Spring). Things slowing down since my pockets need some time to recover from recent mods

. Any idea which one you are leaning towards more?
+1 agreed!