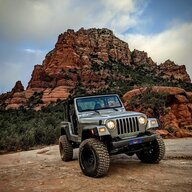 I have no idea what I'm talking about
Supporting Member
Ride of the Month Winner
Joined

Apr 6, 2019
Messages

1,373
Location
I purchased "Gru" used in 2005 with only 20k miles and in pristine condition. A bone stock TJ sport, with manual transmission, hard/soft tops, and an aftermarket stereo. Over the past 14 years, we have been through a lot together. We learned maintenance, how to perform electrical mods, like lights, speakers, and winches. We taught each other the value of quality tools and doing quality work. Of patience. We have both bled, sweated and cried through the years. We learned how to cut steel and weld, how to fabricate, how to create. We have explored Texas and Arizona. climbed rocks and forded rivers. Got stuck in deep mud holes and clawed to the tops of mountains.
14 years later we are both older and have scars. I can tell you where every one of his scars came from. I've never allowed anyone else to work on him so I know every nut bolt and weld well. I've replaced and upgraded axles, transmissions, and the entire suspension system. I still think its the coolest TJ ever.
This is how he sits today.
5.3 LT Vortec Engine
Dana 30 HP front with Yukon air locker
Dana Ultimate 44
Ford 8.8 rear with Yukon Super 88 c clip eliminator
M220 Rubicon 44 with chromo shafts and truss
4:10 gear axle ratios
5:13
Currie Antirock swaybar
Sway Loc front swaybar, Antirock rear
Advanced Adapter SYE
Advanced Adapter AX15 5-speed transmission
6L80 6 speed auto
Black Magic pads
UCF Aluminum Ultra High Clearance Skid
33x12.50R15 BFG KM2 All-terrain tires
37" Mickey Thompson Baja Claw
15" steel wheels
17" KMC Grenade Crawl beadlocks
Custom rear bumper/hitch
OBA made with Sanden compressor, custom brackets to retain stock AC pump.
3 Link Mid arm front suspension
with 3.5 Rock Krawler progressive springs and 11" travel Fox IFP (custom mounts for JL shocks)
14"Coil Overs 2.5 Fox w/ DSC
3 Link Mid arm Rear suspension with JLUR front Springs and Outboarded Fox 12" smoothies with Remote Reservoir
4 link with 14" 2.0 fox coil overs w/ DSC
AutoCustomCarpets Cutpyle mass backed carpet
Bestop Trektop NX frameless soft top in twill
I've created this thread to document the work I've done and the work I will be doing.
*edited occasionally to maintain accuracy*
Index.
Page 1 The Begining.
Page 2
Headlights, Carpet, Bestop
Page 3
Topless JLs and pretty pictures
Page 4
OBA, Flexing and... The perfect spring?
Page 5
Tummy Tuck, RotoPax and a old jeep
Page 6
JL shocks on a TJ and HUGE air!
Page 7
Beautiful Pics, a flat tire and a Loose exhaust clamp
Page 8
Bitching about heat and a 5.3 Vortec
Page 9
The End of the World. And a bunch of shit I worked hard on... then cut off
Page 10
Prepping for the Vortec
Page 11
AC frame notch and other clearance issues
Page 12
Mini Skids and Body Mounts
Page 13
Some other guys jeep and Hi Lines
Page 14
Joints, links, and coilovers
Page 15
Punk'nStein
Page 16
Armor, sliders and axles
Page 17
A Tiny Jeep, and big tires
Page 18
Coilover Towers, gas caps and Bump stops
Page 19
A brake, A plasma Cutter and a bad ass axle
Page 20
Finalizing the rear
Last edited: